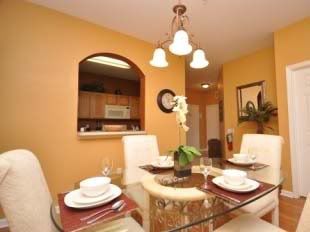 A small dining room space can turn into a big challenge when it comes to furnishing it. Although there is only a limited amount of space, it doesn't mean that you can't have a beautiful dining area. The key here is to maximize the space that you have and minimizing clutter through careful planning and use of the right dining furniture.
A few simple tricks can make a room look larger than it really is. First, make sure to provide easy access in and out of the dining room as to create a more open appearance. Use small and light window coverings to bring in more sunlight to brighten up the room rather than bulky drapes for the windows.
Large pieces of mirrors can also be added onto the wall to produce an illusion of a larger space through the reflection of light.
Avoid placing too much decorative items that will make the room cluttered. But if you must, try to use room decors that are clean and simple instead. Store your dining tools in decorative baskets or containers so the room will look more organized.
Knowing the ideal size of your dining room furniture is very important. Let's start with the dining table. If your dining room is rather long and narrow, then it will definitely look better with a long narrow dining table that is rectangular or oval in shape. A round table with a pedestal base is another great option for small rooms because it can accommodate more seats for more people. Square tables often require the most space.
As for the dining seats, choose armless chairs to save more space. Chairs with arms might be a little bit more comfortable but the arms will just eat up more space. Folding chairs and tables are also an ideal solution for a small dining room. They can be stored to save space when not being used and you can quickly set them up whenever you want to use them. Condo furniture are popular choices for small living spaces as well because they are less bulky and modern looking.