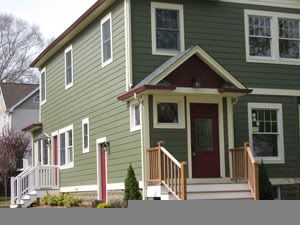 Fiber cement siding is a very commonly used building material on the exterior of many buildings and homes due to its high durability and resilience, and which at the same time, providing a natural look to the building.
Also, cement siding is highly resistible against termite attacks and moisture, it will not crack or rot overtime, and it is non-combustible, certainly a great material to be used in fire prone areas. Although wood might be more preferable for the exterior of a home, it is costly and less durable. Fiber cement siding on the other hand is sturdier, more natural looking as to stone or brick and more heat resistant.
Another great benefit of using cement siding is that it will last even longer when it has been painted and its surface really holds the paint well. It can be painted either before or after the installation. One quick tip, the siding should be painted very soon after it has been installed because its surface will be weathered if it's being exposed to water.
The composition of fiber cement siding consists of premium cement, natural fibers, water and finely-ground sand. These ingredients are combined using pressurized steam to produce a truly heavy-duty siding and once it is installed, it will never require much maintenance. Finally you can finish up the interior with brick paneling, wood paneling or stone panels.