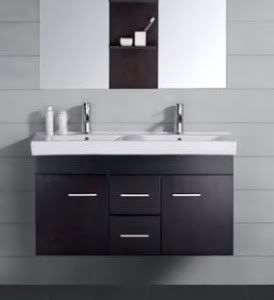 Bathroom is an essential part of our lives and our home. We do many things in our bathroom each day and other than the shower or bathtub, vanity unit is probably one piece of furniture we will be spending most of our time in. A vanity unit usually comes with a wash basin, cabinet or drawers and a mirror. It is designed to be used for several purposes and is considered one of the most important pieces of furniture in our bathroom.
The great outlook of this bathroom furniture is probably why people would get them installed to create an outstanding bathroom. In this modern century of home improvement, we would like to hide all the bad looking cables as well as plumbing circuits that are visible all around the house whenever possible. Not only does a vanity unit get the pipes out of sight, it also houses the basin neatly and nicely.
Most of these units have additional spaces for small objects such as toothbrush, soap and other toiletries. The vanity unit can also be your main mirror as well if you have no extra piece of mirror in your bathroom. Since it is such an important piece of furniture in your house, you should have some basic knowledge and tips before getting one for yourself.
The height and size of a vanity unit is what you should take into consideration first. Most bathroom vanity units are built with a standard height of 30 inches from the ground and have a variety of sizes. However for people who are shorter or taller than the standard height, they should take some time to search for what is right for them. Or, you can choose wall hung vanity units and install it according to your own custom height.
Finally, choose a design and shape that you like and make sure that it can blend with your bathroom design.